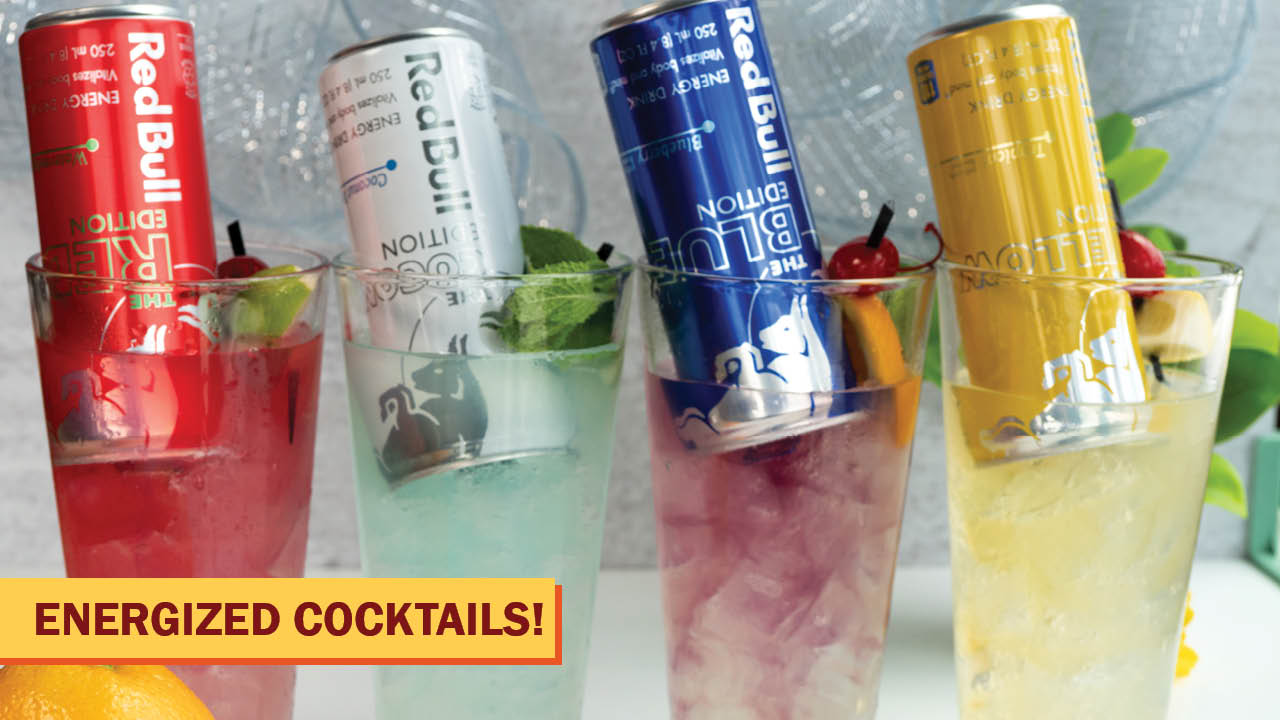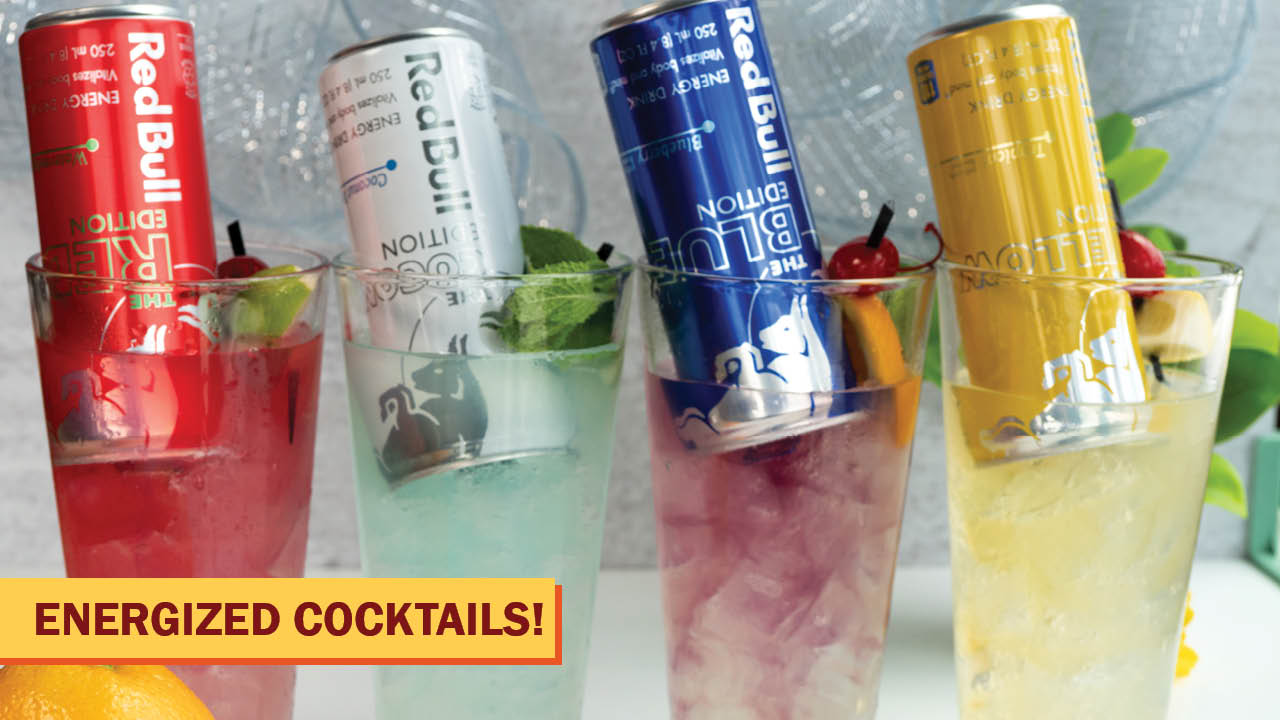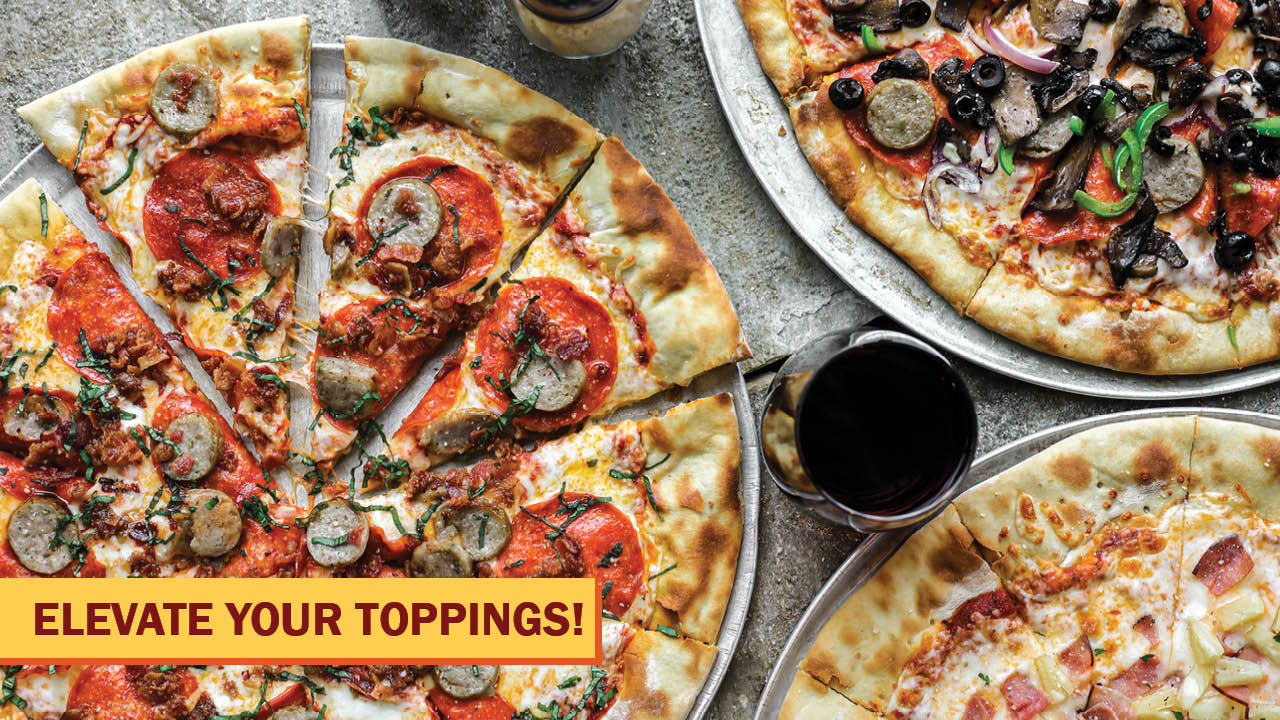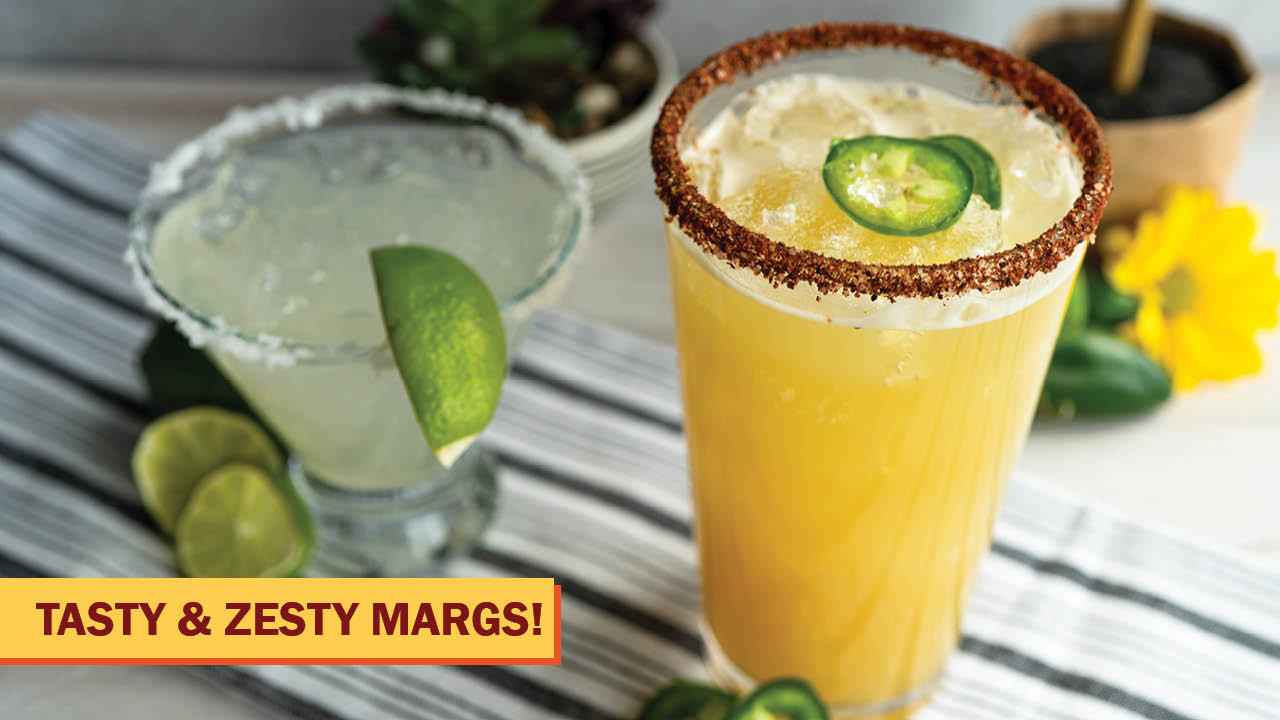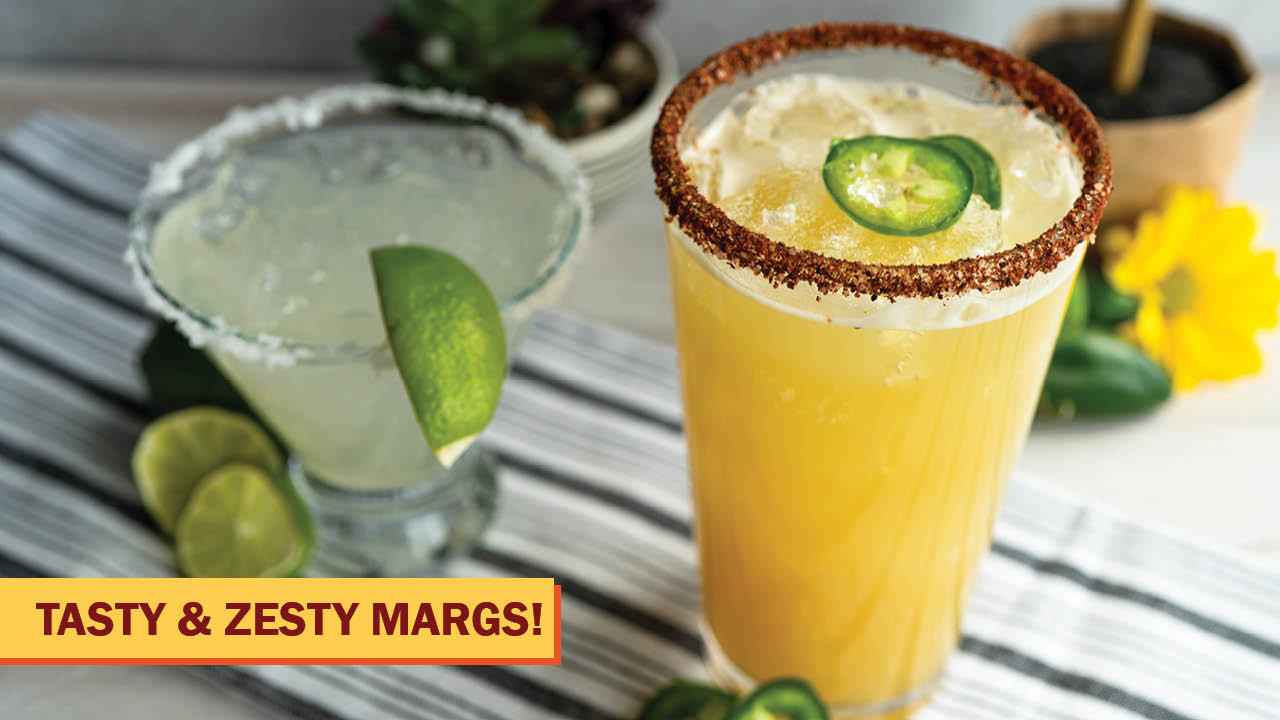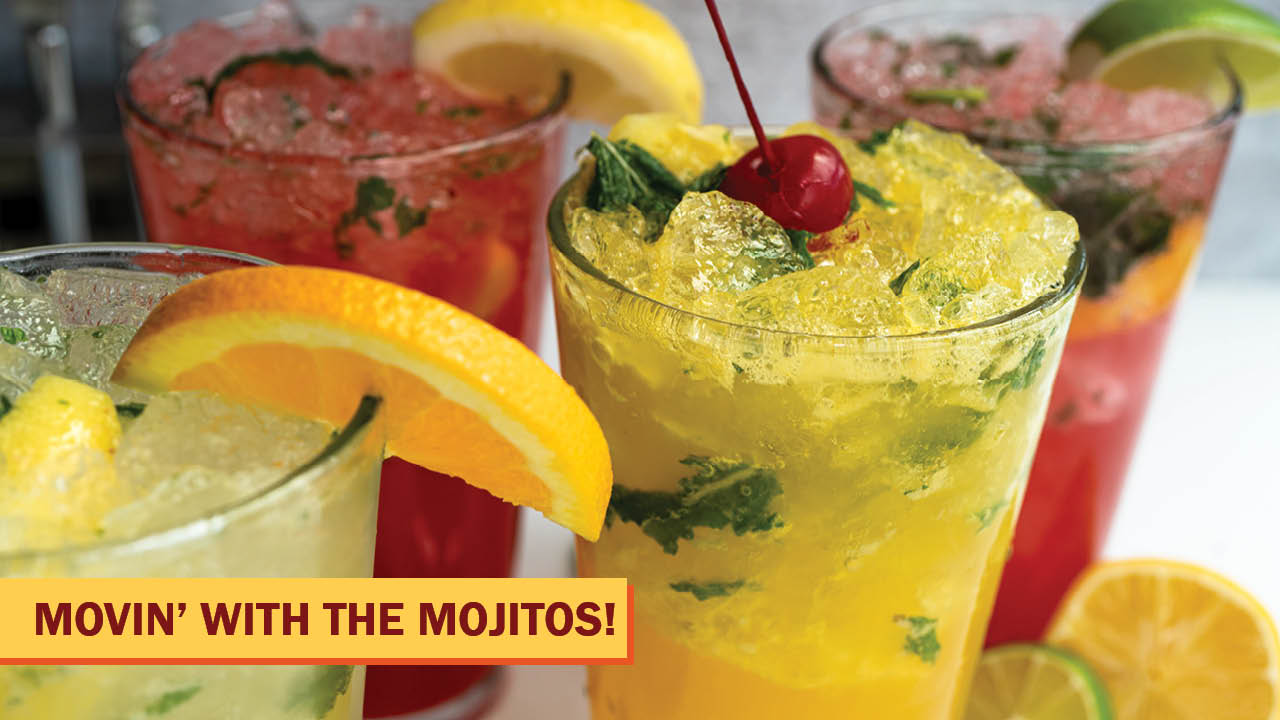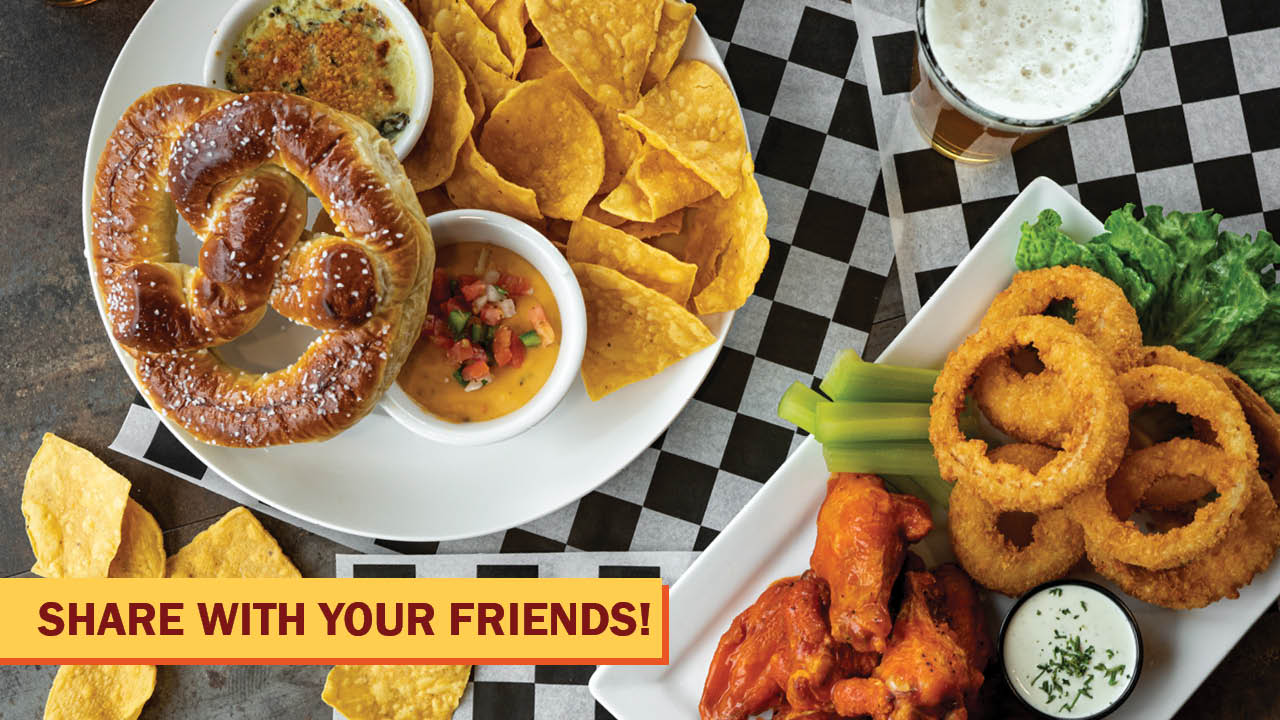 DOMESTIC DRAFT PINTS
All Domestic Drafts 4
WELL DRINKS
Rum • Vodka • Scotch • Gin • Whiskey • Tequila 4.5
CRAFT DRAFT PINTS
All Craft Drafts 5
SPINACH ARTICHOKE DIP (GF) ♦
Our dip is cheesy, creamy, savory and baked to perfection. Served with homemade crisp corn tortilla chips, celery and carrots. 11.99
THE THREE AMIGOS
Get all three dips: fresh guacamole, fire-roasted salsa and creamy chile con queso with homemade crisp corn tortilla chips. 16.99
DAILY HOMEMADE TORTILLA CHIPS ♦
Options: Fresh Guacamole 9.99 • Creamy chile con queso 9.99 • Fire-roasted salsa 6.99
LOADED FRIES (GF) ♦
A mound of crispy fries, melted jack and cheddar, Applewood smoked bacon and scallions. Topped with ranch drizzle. 11.99
CHEESE CURDS ♦
A share-size portion of our perfectly fried cheese curds served with ranch dipping sauce. 11.99
CHICKEN TENDERS ♦
Crispy golden chicken tenders served with fries and your choice of sauce. 12.99
BAVARIAN PRETZELS ♦
Two jumbo Bavarian hand-twisted pretzels. Served with creamy chile con queso. 12.99
BONE-IN
5 For 10.99 ♦ • 10 For 18.99
BONELESS
8 For 9.99 ♦ • 16 For 16.99
FLAVORS
BBQ (GF) Heat Level: 1
BOURBON MOLASSES (GF) Heat Level: 2
BUFFALO (GF) Heat Level: 3
TEQUILA GLAZE (GF) Heat Level: 3
SPICY GARLIC (GF) Heat Level: 4
FLAMING HABANERO (GF) Heat Level: 5
NASHVILLE HOT DRY SEASONING (GF) Heat Level: 5

SAUCES
RANCH • CREAMY BLEU CHEESE • ANCHO-CHIPOTLE SAUCE
COLOSSAL BROWNIE
A medium, warm, chocolate brownie served with four scoops of vanilla bean ice cream, chocolate sauce, caramel sauce and whipped cream. 11.99 ♦
FUNNEL FRIES
Perfectly fried funnel-cake fries with powdered sugar. Served with strawberry and caramel dipping sauce. 8.99 ♦
BISTRO CAKES
A decadent collection of individual desserts to complement your dining experience. Three bistro style cakes for you to share. Tiramisu, key lime and cheesecake. 11.99 ♦
À la carte. 4.99 ♦
ROOT BEER FLOAT
Two scoops of vanilla bean ice cream served in a medium glass of Mug Root Beer® 5.99 ♦
ROSE WATER
Rose Svedka vodka with house made lemonade and a Watermelon Red Bull®. 11.99
SEA TURTLE
Ginger Lime Svedka vodka with house made lemonade and a Coconut Red Bull®. 11.99
DRAGON BERRY
Strawberry Lemon Svedka vodka with house made lemonade and a Blueberry Red Bull®. 11.99
TROPICAL BREEZE
Strawberry Guava Svedka vodka with house made lemonade and a Tropical Red Bull®. 11.99
SUMMIT SPARKLERS
Truly Wild Berry enhanced with your choice of raspberry, strawberry, passion fruit or mango. 7.99
CUCUMBER LIMEADE
Pearl cucumber vodka, fresh lime juice, Sierra Mist® lemonlime soda and fresh cucumber. 9.99
SUMMIT LEMONADE
Vodka infused with fresh seasonal berries. Shaken with fresh lemon juice. Topped with Sierra Mist® lemon-lime soda and fresh lemon. 9.99
J-RUNNER
A blue twist on the classic rum runner with a blend of spiced rum, coconut rum and pineapple juice. 9.99
RASPBERRY SUNSET
Vodka infused with fresh raspberries. Shaken with peach schnapps and sweet and sour. Topped with Sierra Mist® lemon-lime soda and Grenadine. 9.99
CRAZY CUBAN
Bacardi rum, coconut rum, spiced rum, banana liqueur and pineapple juice. 9.99
BLUE SKY
Coconut rum, peach schnapps, Blue Curaçao, sour mix and Sierra Mist® lemon-lime soda. 9.99
SUMMIT MICHELADA
A refreshing and bracingly flavorful classic Mexican cocktail. Modelo Especial combined with our house made michelada mix and a Tajin salt rim. 9.99
THE FOURTEENER BLOODY MARY
Vodka blended with our house made Bloody Mary mix, Tajin salt rim and garnished with bacon, pepperoni, green olive, celery and a lime. 9.99
SUMMIT MOJITO
Fresh lemon, strawberry and mint leaves muddled with rum. Shaken and topped with soda water. 9.99
PINK BIKINI MOJITO
Fresh lime, raspberry and mint leaves muddled with rum. Shaken and topped with soda water. 9.99
MANGO CRUSH MOJITO
Fresh orange, mango and mint leaves muddled with rum. Shaken and topped with soda water. 9.99
POLKA DOT MOJITO
Fresh cherries, passion fruit and mint leaves muddled with rum. Shaken and topped with soda water. 9.99
PERFECT PATRON MARGARITA
Patron Silver tequila shaken with orange liqueur, fresh lime juice and agave nectar with a salt rim. 12.99
PINEAPPLE JALAPENO MARGARITA
Dulce Vida pineapple jalapeño tequila shaken with fresh lime juice, agave nectar and pineapple juice. Served with a Tajin rim. 10.99
TRADITIONAL MULE
Svedka Ginger vodka, fresh mint leaves, lime juice and Gosling's ginger beer. 9.99
IRISH MULE
Jameson whiskey, fresh mint leaves, lime juice and Gosling's ginger beer. 11.99
LONDON MULE
Tanqueray gin, fresh mint leaves, lime juice and Gosling's ginger beer. 11.99
MEXICAN MULE
Dulce Vida tequila, fresh mint leaves, lime juice and Gosling's ginger beer. 11.99
COLORADO MULE
Tincup whiskey, fresh mint leaves, lime juice and Gosling's ginger beer. 11.99
SUMMIT MANHATTAN
A new level of sophistication and uniquely layered flavors in this elegant classic. Makers Mark 46, Amaretto and Sweet Vermouth. 11.99
OLD FASHIONED
The Old Fashioned never gets old. Sweet and strong with touches of citrus. Tin Cup Rye sweetened with dashes of bitters. 11.99
HOUSE WINE
Cabernet • Chardonnay • Zinfandel
6oz 5.99 • 9oz 7.99
INFINITE MONKEY
Red • White • Bellini
9.99
KIM CRAWFORD
Sauvignon Blanc • Rosé
12.99
BOTTOMLESS BEVERAGES
Pepsi®, Diet Pepsi®, Mountain Dew®, Sierra Mist®, Mug Root Beer®, Dr. Pepper®, Lemonade and Iced Tea 3.99
MILK
White or Chocolate 3.99
COFFEE or HOT TEA 2.99
Before placing your order, please inform your server if a person in your party has a food allergy. Items marked GF are either gluten-friendly or can be prepared that way upon request.
♦ Dine + Play Combo item! Receive both the entrée and a $30 Game Card for $29.99! Game Card is good for use on all video games and laser tag.
* These items may be served raw or undercooked or contain raw or undercooked ingredients. Consuming raw or undercooked meats, poultry, seafood, shellfish or eggs may increase your risk of foodborne illness.
GF Gluten-friendly option is available. May require substitution or removal of certain ingredients. Please specify if you wish to have this item prepared gluten-friendly at the time of ordering. Although many of our ingredients are gluten-friendly, we cannot guarantee that they are 100% free of gluten, as there may be trace amounts transferred from kitchen equipment and variation of supplier ingredients. Please consider this when ordering from our menu.
All gratuities are shared by employees.