Get started below:
Online bowling reservations must be made at least four hours in advance. Promotional bowling pricing, such as Kids Bowl Free, Happy Hour, and any discounted certificates, are available only for walk-in guests. Booking an online reservation will secure your lane at our standard online hourly rates.
DUE TO COVID RESTRICTIONS: Single-lane reservations are limited to 5 guests, two-lane reservations are limited to 10 guests. Our guests must wear a face mask that covers their mouth and nose at all times unless they are seated and consuming food and beverage.
Lanes 1-16
This area is the perfect place to kick back and relax! Couches and coffee tables.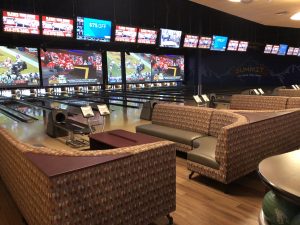 Lanes 17-36
20 state of the art bowling lanes, perfect for casual bowling with family and friends.