THE SUMMIT STRIVES TO BE THE SAFEST PLACE TO WORK, HAVE FUN, AND EAT! 
The health and safety of our guests and team members remains our top priority. We have worked diligently to update our service model and trained our team members to provide a fun and safe environment for everyone who comes through our doors. As we are committed to this promise, we also need your help to achieve it.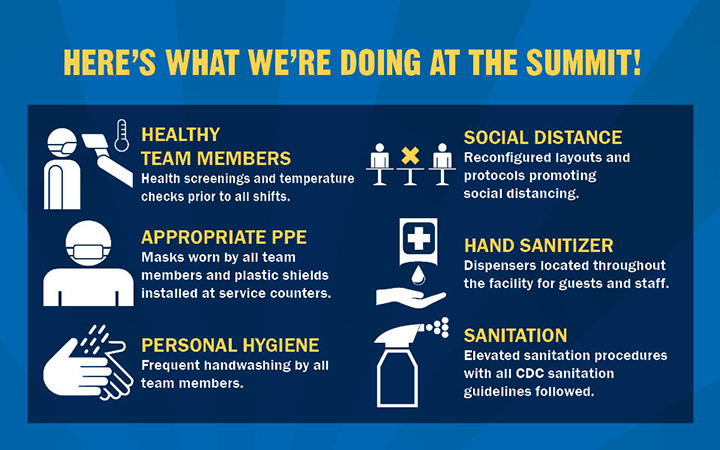 As a part of our commitment to you, all of our team members will have a temperature check and will be asked health questions to ensure they are not exhibiting any symptoms of illness when they arrive at work. If they have a temperature over 100.4 or show any sign of illness, they will be sent home and not allowed to report back to work until they are not displaying any symptoms for 72 hours. Team members will be provided facial masks, or supply their own, that cover their nose and mouth and will be expected to wear them while they are working.
Our team members have been through extensive training to ensure they have the knowledge and tools to help prevent the spread of COVID-19 in the workplace. All team members have been educated on how to maintain industry-leading operational standards through continual cleaning and sanitization from the recommendations and best practices provided by the Center for Disease Control (CDC). We have spent ample time in training and reviewing our new service model, methods of social distancing, sanitation, personal hygiene, and cleaning protocols across all departments.
To help make sure your visit is safe, we need a little help from you to achieve this. While we are still offering the same great food, products, service, and fun you have grown accustomed to at The Summit, we do have some new rules to play by.
Be well when you enter The Summit. If you are displaying any symptoms of illness, we ask you to return when you are well. Please respect other guests' space through the center by practicing social distancing.
Please help us by abiding by these safety measures. It is also important to remember to be patient with one another. Kindness and understanding is appreciated! Together, we can keep each other healthy.
On July 16, 2020, the Governor of Colorado signed an order requiring people to wear Face Coverings in Public Indoor Space. People 10 years of age and younger are exempt from the order. People seated at a food service establishment are exempt. People who are exercising are exempt. Bowling is considered exercise, and therefore face masks are optional while bowling. The 6' social distancing applies.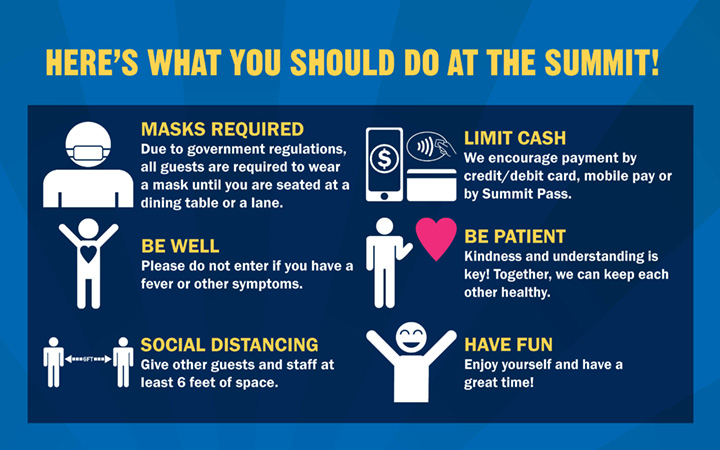 Get ready to bowl! While we have always had high standards of safety and cleanliness inside our facilities, we have taken our processes in the bowling center to a new level.
Rental shoes and house balls will be thoroughly sanitized in between each use. All house balls will be kept in a designated area to limit guest contact.
The bowler's area furniture, ball return, and touch keypads are cleaned and sanitized after each use and again in the presence of the guests before they begin to bowl.
We have installed curtain walls between certain lanes to create more separation between groups. These curtains will help provide you the most peace of mind while you have fun on the lanes again! On the rest of the lanes, we will only be issuing every other bowling lane.
Elevating your dining experience at the Crossroads Tavern & Grille! You can expect we will strictly be following health, cleanliness and safety measures to ensure a safe dining experience.
Tables and chairs have been removed in the restaurant and bar areas to create more space to adhere to social distancing best practices. Seating in Crossroads will be done at every other table to provide distancing between diners.
Condiments will available upon request and will be in single-use packets.
Menus will be disposable, for one-time use only.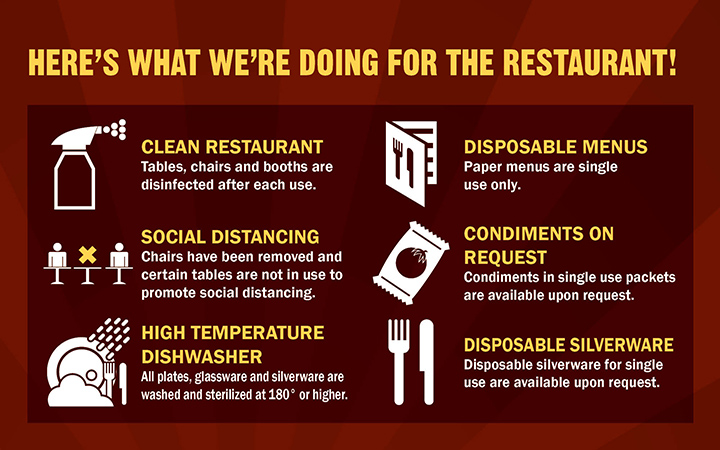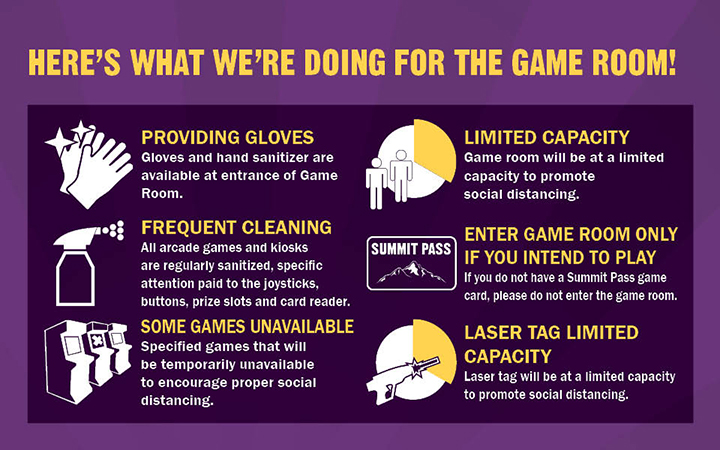 We have leveled up in the Game Room! To create a safe area, we have moved and separated games to create more space in between player stations. Certain games will not be available on certain days to provide more distance between guests playing games.
The capacity of the Game Room will be monitored and operated at a limited capacity to ensure an appropriate number of guests are in that area at any given time.
All arcade games and kiosks will be regularly sanitized with staff paying particular attention to the joysticks, buttons, prize slots, card readers and any other areas touched during gameplay.
When you are ready, we will be ready to serve you. We realize that we have the unique opportunity to provide people a bit of respite from the past couple of months of staying indoors and not being in larger groups while doing it safely. We look forward to extending a warm welcome to you soon!
While all areas of The Summit are not open yet, we are ready to provide clean, safe fun when we are given the approval to open all areas.
Whether you are enjoying The Summit on the lanes, game room or in the dining room, below are the strick and detailed health, cleanliness and safety measures you can expect from us in each of these areas:
BOWLING            GAME ROOM            PRIZE ROOM           CROSSROADS          SAFETY STANDARDS            OUR COMMITMENT